Our top 3 Golf-friendly vacation rentals in Barbados
Barbados is world-famous for its beaches, its culture, and its food. And now it's also becoming a popular destination for those who love to play the game of golf.
The island has some of the best golf courses in the Caribbean, including two championship courses designed by Jack Nicklaus: The Royal Westmoreland Golf Club (designed in 1969) and the Barbados Country Club (designed in 1980). Both are located on the west coast of the island.
The Royal Westmoreland Golf Course was originally built as an 18-hole course in 1969. It was expanded to 27 holes in 1990. In 2000, the course underwent another expansion that added nine more holes.
The Barbados Country Club opened in 1980 with 18 holes. A second 9-hole course was added in 1998.
Both courses have hosted numerous events, including the Barbados Open Championship, which is one of the most prestigious tournaments in the region.
In addition to these two famous courses, there are several other great public courses throughout the island. Some of them include:
• St. Lawrence Gap – This par 72 course is located just outside Bridgetown. It features beautiful views of the Atlantic Ocean.
• Sandy Lane – Located near the capital city of Bridgetown, this course is home to the Barbados Open Championship.
• Garrison Savannah – This course is located at the Garrison Savannah Resort & Spa. It offers scenic views of the ocean and the surrounding area.
• Bathsheba – This course is located in the town of Bathsheba. It is considered to be one of the top 10 courses in the entire Caribbean.
In this post, we have selected our top 3 Zenbreak golf-friendly vacation rentals:
ZenBreak Tradewinds at Royal Westmoreland
ZenBreakTradewinds is a sophisticated villa with a magnificent setting on the famous Royal Westmoreland Estate. You will be enchanted with this luxurious retreat.
The 4-bedroom villa has a poolside terrace and a stylishly furnished covered terrace. The lounge features a 50″ Smart TV, DVD player, and Sonos system – so you can enjoy your own music. The superb contemporary kitchen has all the modern stainless steel appliances required. It is located in the much sought-after Royal Westmoreland resort.
Tradewinds provides breath-taking views across the immaculately groomed Robert Trent Jones Jr. designed golf course over to the Caribbean Sea. Immediately outside the kitchen area is a breakfast dining area. There is also a large gas BBQ and hob cooking facility.
ZenBreak Evergreen 3Bd
Hidden away in over two acres of tropical gardens on the west coast's exclusive Sandy Lane Estate is Evergreen, a large, elegant villa that enjoys total seclusion. Each room has been furnished with your comfort in mind, with an added touch of luxury and convenience in the little extras on offer.
Less than a 10-minute drive from the villa is Holetown, which has a broader range of amenities. Evergreen is a well-positioned and ideally-located base for your holiday to this beautiful part of Barbados. Because it's part of the Sandy Lane Estate, exclusive beach club facilities are just a short walk away.
Barbados' capital, Bridgetown, is less than a 20-minute drive from Evergreen.
ZenBreak Apes Hill Polo Villa #9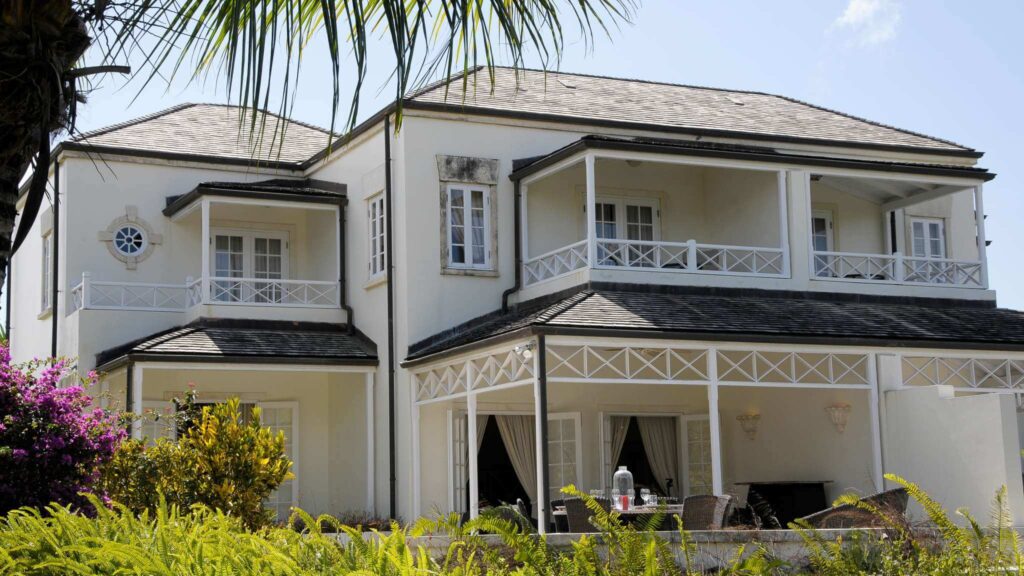 ​ZenBreak – Apes Hill Polo Villa 9 is a beautiful 3 bedrooms duplex villa with landscaped gardens and is ideal for a quiet and peaceful getaway from the daily hustle and bustle. Also great for golf lovers, as the Apes Hill Golf Course is just across the street.
The covered terrace overlooks the lake and is furnished with patio equipment perfect for relaxing and al-fresco dining. Upstairs you will find the master bedroom with a 4-poster king-size bed with its own en-suite bathroom and a small patio. The 2nd bedroom has two single beds that can be joined into a king bed and has its own full bathroom.
There is also a large common swimming pool with lounge chairs and a gazebo, tennis courts, a fitness centre, and the Apes Hill Golf Course.
For more information on golf holiday accommodation in Barbados? Check our complete portfolio of vacation rentals in Barbados and start planning your exclusive vacation to this beautiful island in the Caribbean.
Four Common Questions regarding Golf-friendly Vacation Rentals in Barbados:
What is the best time of year to play golf in Barbados?
The best time to play golf in Barbados is during the dry season, which runs from December to April. During this time, the weather is typically sunny and dry, with temperatures averaging in the mid-80s Fahrenheit. However, golf can be played year-round in Barbados, as the island enjoys a warm, tropical climate throughout the year.
Are there any golf-friendly vacation rentals in Barbados that are close to golf courses?
Yes, there are many golf-friendly vacation rentals in Barbados that are located near golf courses. Some popular options include the Royal Westmoreland Resort, the Sandy Lane Estate, and the Apes Hill Club.
What amenities can I expect in a golf-friendly vacation rental in Barbados?
Most golf-friendly vacation rentals in Barbados come with a range of amenities that cater to golf enthusiasts. These can include private pools, outdoor dining areas, spacious living areas, and of course, access to nearby golf courses.0 per person.
Can I rent golf equipment while staying at a vacation rental in Barbados?
Yes, many golf courses in Barbados offer equipment rentals, so you can easily rent clubs, golf carts, and other necessary equipment. Additionally, some vacation rentals may have their own equipment that you can use, so be sure to inquire with the property owner or management.