Your Family Guide to the 10 best beaches in Barbados
Planning a family trip to Barbados? Bookmark this handy guide for the 10 best beaches in Barbados. These are the soft sand destinations as approved by sun-kissed kids and their happy parents.
Best Beaches for Families on the Platinum Coast
The Platinum Coast refers to the west coast beaches of Barbados, and most families will emphatically agree that these beaches are by far the best for kids. Maybe it's the calm, shallow seas perfect for bobbing or the soft, golden sand that curls around little toes. Or perhaps it's the naps under casuarina trees that serve as nature's umbrellas. But, hey, maybe it's even the simple comforts like a lifeguard, nearby restroom facilities, picnic tables, sunloungers, and playgrounds?!
We'll let you be the judge…
1. Paradise Beach, Prospect, St James, Barbados
This beautiful beach is just a few minutes from Bridgetown but retains a beautifully rustic vibe. This is thanks to the bordering rocky enclosures and a neighboring property full of native green monkeys. The clear, shallow Caribbean turquoise waves gently lap along a long stretch of soft, golden sand. Yet, being close to the capital, it has all the amenities desired for beaching it with kids.
Family Amenities at Paradise Beach:
Shaded areas
Calm water for swimming & snorkeling
Closeby popular beach Bar & Restaurant (La Cabane)
Car park behind La Cabane
2. Brandon's Beach, Spring Garden Highway, Bridgetown, Barbados
Brandon's Beach is a bit of a hidden gem, a local's secret if you might. Nestled between two of the island's rum distilleries and a short walk from the cruise port. A serene spot with an immaculate, glassy cove, deserted beaches, and plentiful shade trees, it's quite the gem if you and your littles would like to get off the tourist trail. And to top it off, you'll find absolutely everything you need to appease everyone in the fam:
Family-friendly Barbados: Brandon's Beach amenities:
Lifeguard
Restrooms
Shaded areas
Calm water for swimming & snorkeling
Beach chairs for rent & picnic tables
Rascals Restaurant & Aqua fun park
Large car park
3. Heywoods Beach, Speightstown, Barbados
Heywoods Beach is among the northernmost beaches on the Platinum Coast. It lends a nice hint of what the remote north shore feels like while hanging onto all the perks of the western beaches in Barbados. The calm, shallow sea is ideal for swimming with children. Plus, the nearby shallow water reef means there are lots of fish in the water, too, making it an excellent area for beginner snorkelers. The quiet, wide beach is even a great place for building sandcastles, and since it's close to the town of Speightstown, the amenities are plentiful:
Services at Heywoods Beach near Speightstown:
Lifeguard
Restrooms
Shaded areas
Calm water for swimming & snorkeling
Parking on street
4. Alleynes Bay Beach, Mt Standfast, St James, Barbados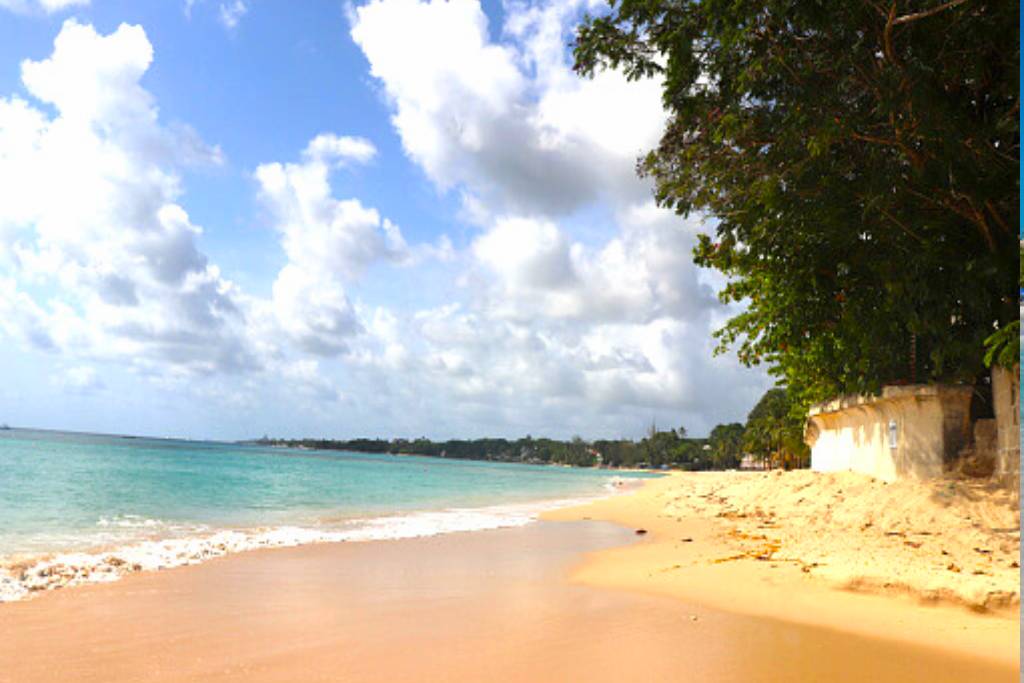 Alleynes Bay is smack dab in the middle of the Platinum Coast, yet somehow, it's blissfully overshadowed by Mullin's Beach to the north and Payne's Bay Beach to the south. Ultimately, it means this sliver of island paradise is among Barbados' popular beaches. Access by pathway to beach or via Lonestar or Jumas. And there is plenty of adventure for kids of any age! The full shade in the mornings is best for the little babes, while the gently rolling waves are perfect for budding boogie boarders. Plus, the water is shallow and clear for the swimmers and snorkelers hoping to make friends with a turtle! The amenities are limited but do cover the basics:
Amenities at Kid-friendly Alleynes Bay Beach
Lonestar Restaurant & Jumas beach bar
Shaded areas
Rental of beach chairs and umbrellas
Calm water for swimming & snorkeling
Parking accross the street
Family-Friendly South Coast Beaches on Barbados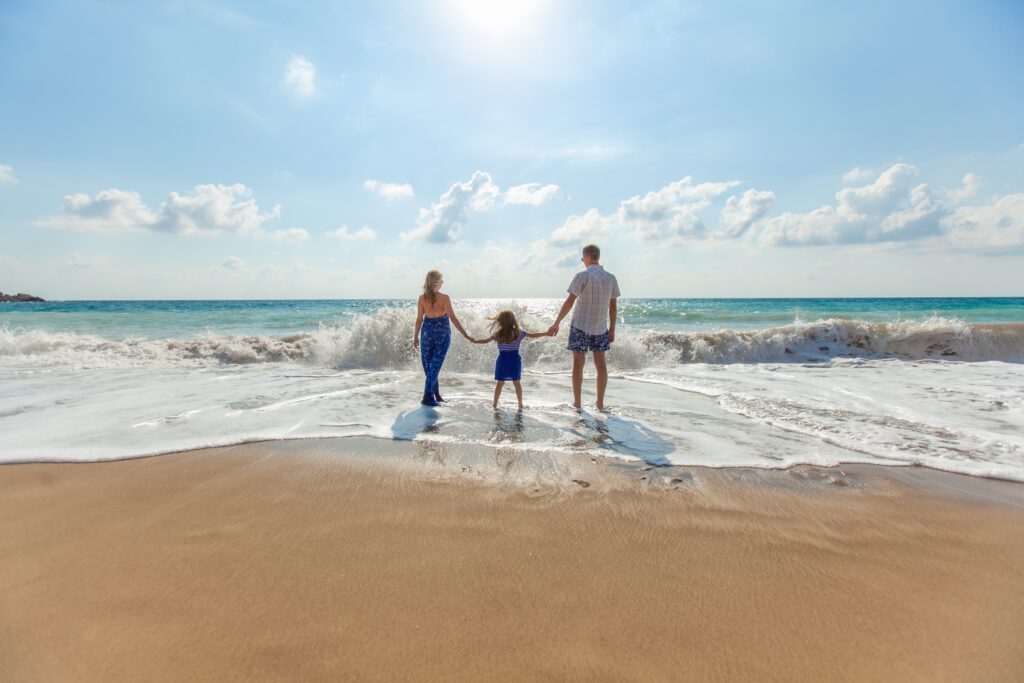 The South Coast is often pegged as the lively side of Barbados, often in reference to the lifestyle but also for the more adventurous sea conditions. It's where the Caribbean and Atlantic water mingle for a mix of the best surfing, wind conditions, and dive sites for the more adventurous travelers. But that doesn't mean families can't appreciate it, too. You just have to know where to go!
6. Accra Beach aka Rockley Beach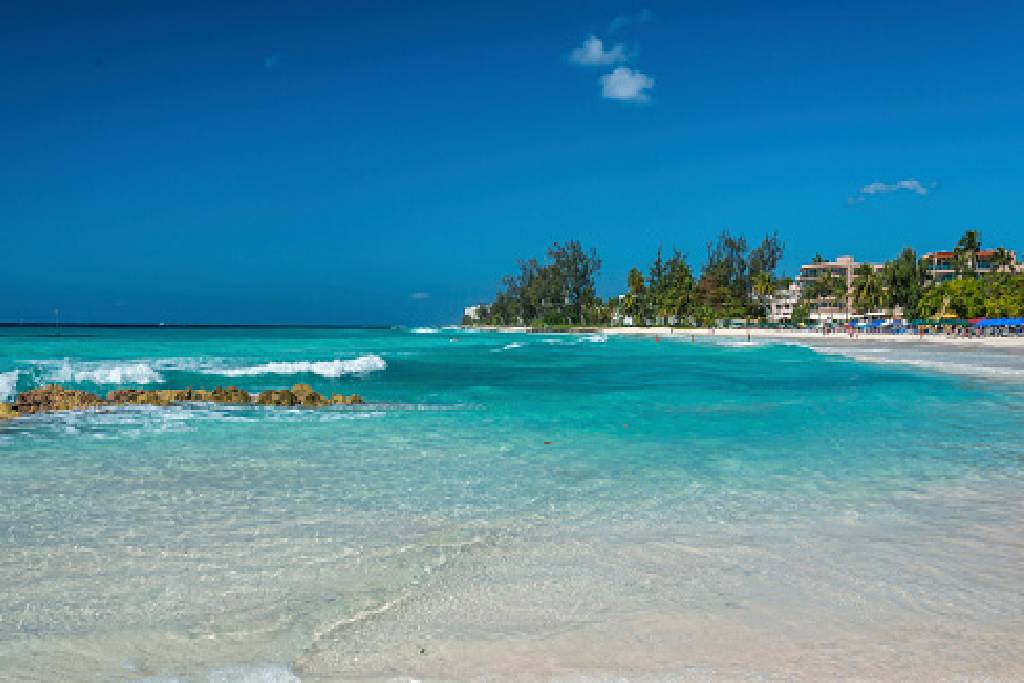 Officially named Rockley Beach, it's been dubbed by locals as Accra Beach, and it's a small but happening spot on South Coast Barbados. It's an excellent beach for a broader range of children's ages as it includes perfect splash pools for smaller tikes, rolling waves for boogie boarding, and calm seas you can stand up in – ideal for paddleboarding. It's all backed by tiki huts selling everything from fishcakes and local food to popsicles to shell necklaces and bikinis. Needless to say, the services are not in short supply:
Accra Beach Amenities for Families:
Lifeguard
Restrooms
Playground
Calm water for swimming
Beach chairs & umbrellas
Places to eat – Tiki Bar, Chefette, Food stalls
Large Car Park
7. Drill Hall Beach, Barbados
Drill Hall Beach is a rustic, pink sand beach perched just below the Barbados military encampment. The beach is well shaded and perfect for building castles or poking through tidepools, while the surf is rated among the best for beginners on the island. It's a popular spot for children's surf lessons and is even home to occasional beginner surfing contests. Popular nesting spot for sea turtles.
Services on Drill Hall Beach:
Lifeguard
Shaded areas
Calm water for swimming & snorkeling on the east end
Picnic tables
Large Car Park
Barbados North Coast Beaches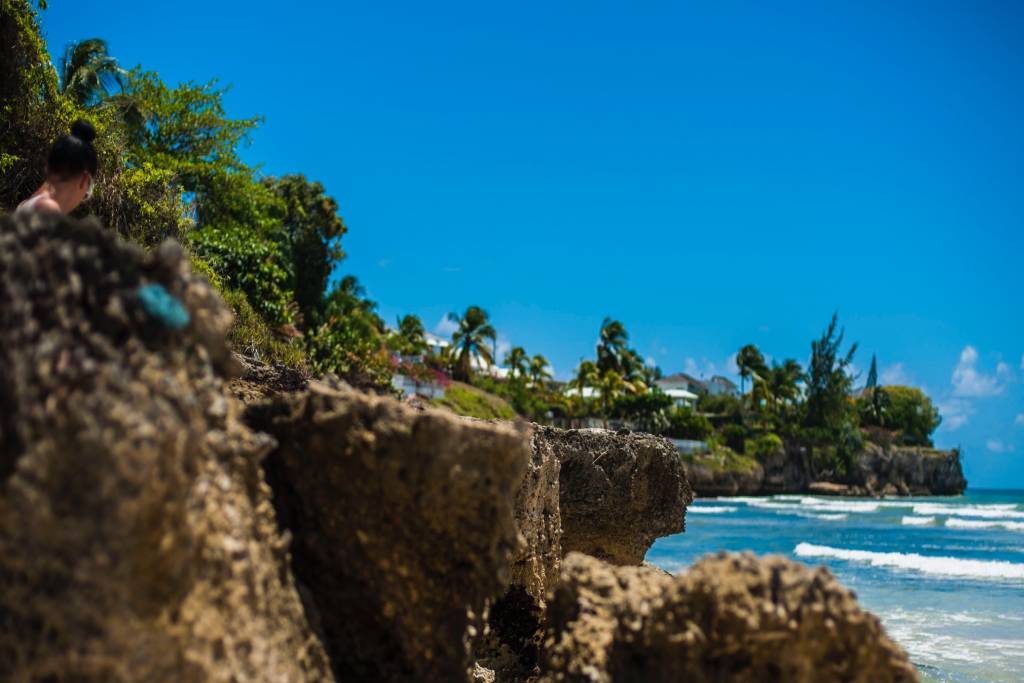 In Barbados, the north coast represents rugged beaches framed by towering cliffs and tiny hidden coves pulsed by pounding sea. It's the most secluded, least visited, and often touted as the most beautiful coastline in Barbados. But swimming here isn't for the faint of heart, and most beaches require at least a short hike to reach them.
8. Freyers Well Bay
If you're looking for an off-the-beaten-track perspective of Barbados, the north coast is where you want to be. And if you want more than a cliff top view, take the kids to Freyers Well Bay. Not quite on the full north coast, its westerly angle means it's one of the last swimmable beaches before hitting the wild north coast. The small, sandy cover is ideal for sunbathing, snorkeling, and swimming in gently rolling waves. There aren't many true beach amenities, but it's not totally isolated and there are shops, restaurants, and vacation rentals nearby.
Kid-friendly Freyers Well Bay:
Shaded areas
Calm water for swimming & snorkeling
Roadside parking
East Coast Beaches Barbados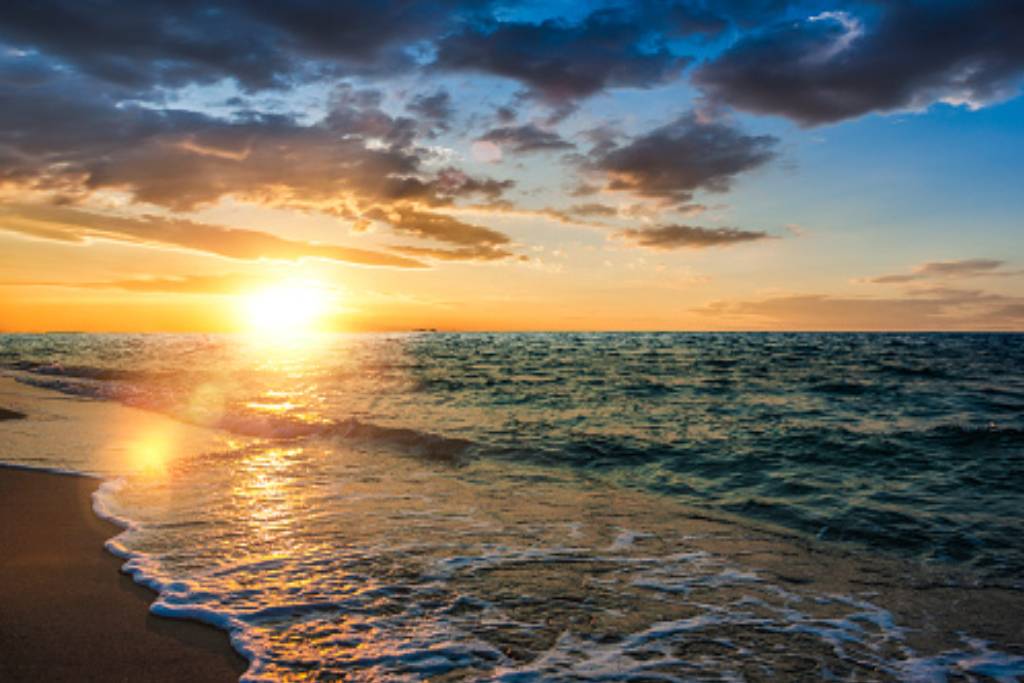 The eastern shorelines of Barbados offer a lot of appeal to beachgoers. They are underdeveloped thanks to conservation laws yet are chock full of micro-adventures and opportunities to explore thanks to tourism authorities who keep the wilds accessible to adventurers. This is the part of the island where surfing and reefs, ruins and caves rule the days. But, if it's the beach you're after, most of the Barbados east coast beaches come with stern warnings about rip tides and undertows. Bathsheba's soup bowl and Box by Box on East Coast Road are very popular surfing spots but not for amateurs.
So, knowing where it's safe to take a dip or play by the shore is crucial, especially with kids.
9. Bath Beach, Barbados
Bath Beach tops the list of swimmable beaches on Barbados' east coast. Sea currents are rare but not impossible, there is plenty of shade, and there are both ruins and a waterfall within reasonable walking distance. Plus, some amenities and service is within arm's reach.
Services & Amenities at Bath Beach, Barbados:
Lifeguard
Restrooms
Playpark
Shaded areas
Calm water for swimming
Picnic tables
Large Car Park
10. The Bathsheba Pools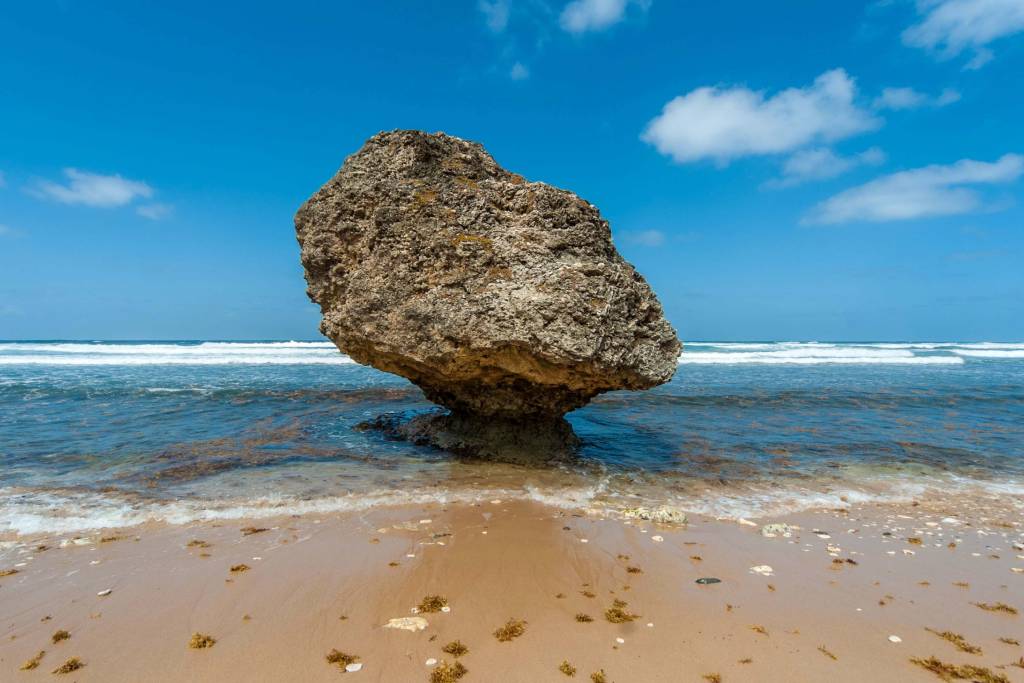 You can't visit Barbados' east coast without sinking into the Bathsheba Pools. These coral reef tidepools are sunk inland from the shore break, creating an oasis for soaking. The outlying sea is wild and unfriendly, so avoid venturing beyond nature's hot tubs unless it's to keep your feet firmly in the sand. But do bring your kite and picnic basket, and plan to spend the day in this iconic local's hideaway.
Bathsheba Pools Amenities:
Lifeguard
Restrooms
Shaded areas
Picnic tables
Places to eat – Roundhouse Restaurant, Uncle Joe's, Eco Lodge and some locals bars
Roadside parking
Family-Friendly Accommodations in Barbados
To make your family trip to Barbados really special, stay at one of Barbados' best family-friendly vacation rentals. To make the most of your family vacation in Barbados, it's essential to find the right accommodation. Fortunately, the island is home to a variety of family-friendly vacation rentals, ranging from spacious villas to cozy cottages. The options are endless, making sure you find the perfect accommodation to fit your family's wants and needs.
These rentals offer a comfortable home away from home for families, complete with all the amenities needed to keep everyone happy and entertained. Whether you're looking for a beach villa in Barbados with stunning ocean views or a secluded villa surrounded by lush tropical gardens, Barbados has it all. Our vacation properties are situated in the best locations in Barbados, offering gorgeous and unique views that won't be bet. Make the right choice for a luxury family stay in Barbados.
So pack your bags, grab the kids, and get ready to experience the best of Barbados from your family-friendly vacation rental. It's bound to be a family vacation you and your kids will never forget.
Commonly Asked Questions About Top Family Beaches in Barbados;
1. What activities can families do at the beaches in Barbados?
Families can enjoy a wide range of activities at the beaches in Barbados, such as swimming, snorkeling, paddleboarding, kayaking, and building sandcastles. Some beaches also offer amenities like playgrounds, picnic areas, and beachside cafes.
2. Are there any restrictions or rules to follow when visiting the beaches in Barbados?
Yes, there are some restrictions and rules to follow when visiting the beaches in Barbados. For example, it is illegal to remove sand, rocks, or shells from the beaches, and visitors should avoid littering or leaving trash on the beach. It's also important to follow any signs or warnings posted by the lifeguards or beach officials.
3. When is the best time to visit the beaches in Barbados?
The best time to visit the beaches in Barbados is from December to April when the weather is dry and sunny. However, this is also the busiest time of the year, so it's important to book accommodations and activities in advance. The summer months of June to August can also be a good time to visit, with fewer crowds and lower prices, but there may be more rainfall and higher humidity.