The best beaches in Barbados are:
Crane beach
Foul Bay Beach
Mullins Beach
Paynes Bay
Accra Beach
Carlisle Bay
Bottom Bay Beach
Harrismith Beach
A getaway to the Caribbean is something that every tourist dreams of. If we consider Barbados' incredible climate, diverse offering, friendly people, vibrant culture, and spectacular beaches, it is not surprising that it is one of the main tourist destinations in the world.
Without a doubt, one of the best parts of this island is its coastline. When it comes to pristine beaches you are spoilt for choice on this beautiful island. Although all of our beaches here in Barbados offer soft white sand and clear waters, there are a few that stand out from the crowd.
The best way to discover Barbados' beaches is to rent a car and explore the Caribbean coast from Oistins to Speightstown, in some parts of the road, you are right next to the coast so you can enjoy breathtaking views!
Here are our top 8 favorite beaches on the island:
Crane Beach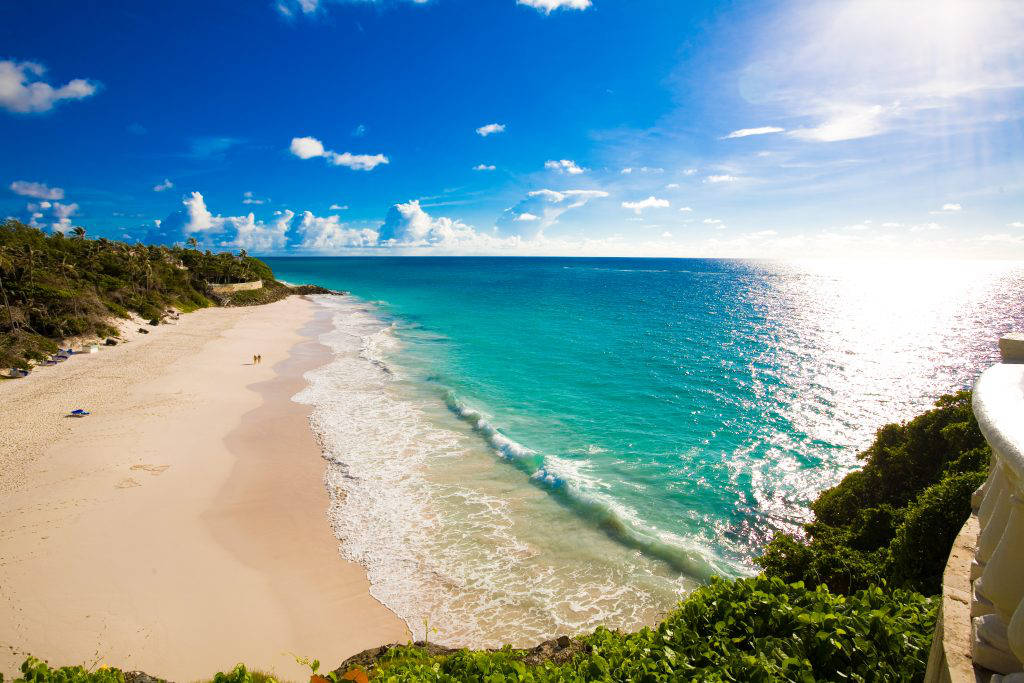 Exposed to breezes of the South East coast, Crane Beach is surrounded by cliffs, rolling waves soft sand and swaying palms. It is the most famous beach in Barbados and is known as one of the most beautiful beaches in the world. Located just 30 minutes away from the capital, Bridgetown, it is visited by both tourists and locals. It is ideal for sunbathing and water sports. If you're lucky, you might even see some sea turtles!
You will find loungers and umbrellas for rent as well as boogie boards. We definitely don't recommend swimming here due to the dangerous currents. However, paddling in the shallows and jumping around in the white water is good fun. If you're hungry make sure to try Cutters – a nearby deli, which offers delicious cutters (that's Bajan for sandwich) and their rum punch is pretty good too!
Foul Bay Beach
This beautiful beach is only 1 km away from Crane Beach, on the south coast of the island. It is a beautiful white sandy beach surrounded by cliffs and clear waters. It has a lot of trees and vegetation, which is ideal if you want some shade. It gets pretty busy on the weekends but you will still be able to find a place to lay on the beach.
Most of the beaches located on the southeast of Barbados are better for surfing rather than for swimming. Keep this in mind if you go to Foul Bay Beach. If you decide to swim there, there will be no lifeguards to help you if something happens. It is a secret hideaway in Barbados with no services (restaurants, bars, etc.) nearby so consider bringing your own food and drinks.
Foul Bay is the perfect place to get away from the busy city and relax in a quiet surrounding. Whether you want to sunbathe, surf or have a picnic with your family or friends, you are sure to love this beach.
Mullins Beach
On the West coast between Holetown and Speightstown lies this sandy stretch of beachy paradise. Mullins Beach is a small beach with calm waters and white sand. It is the ideal place if you want to swim and not have to worry about the waves. If you want to relax, grab your towel and rest under the palm trees or rent a sunbed and umbrella.
Mullins Beach hosts a lively beach bar and a restaurant and is located only 30 minutes away by car from Bridgetown. The Mullins Beach bar is very popular and its easy-going menu will provide you with everything you need day or night. It is the official beach partnered with Royal Westmoreland development. Mullins is a great spot to watch the sunset with a cool cocktail.
Paynes Bay
Another West coast contender, Paynes Bay is south of Holetown and a touch south from Sandy Lane. There are practically no waves at this beach so you can enjoy the safe calm waters, rent a snorkel and mask and bob around with the amazing sea turtles that swim offshore here. Try your hand at paddleboarding too, you can find lots of boards to rent. 
Paynes Bay is a great beach for sports activities and swimming. It offers a variety of different activities such as kayaking, sailing, snorkeling… You can even rent a jet ski or enjoy a boat ride.
While you're there, you can eat at the Tamarind Hotel or try one of the beach shacks along the road behind the beach. Paynes Bay is popular for its fresh fish so don't forget to give it a try!
One thing to know is that Paynes Beach is usually quite busy but there are always free areas available. If you want to enjoy the beautiful sun and have all the services you need in close proximity, Paynes Bay is the place for you. The beach is equipped with showers, bathrooms, restaurants, bars, and shops.
Accra Beach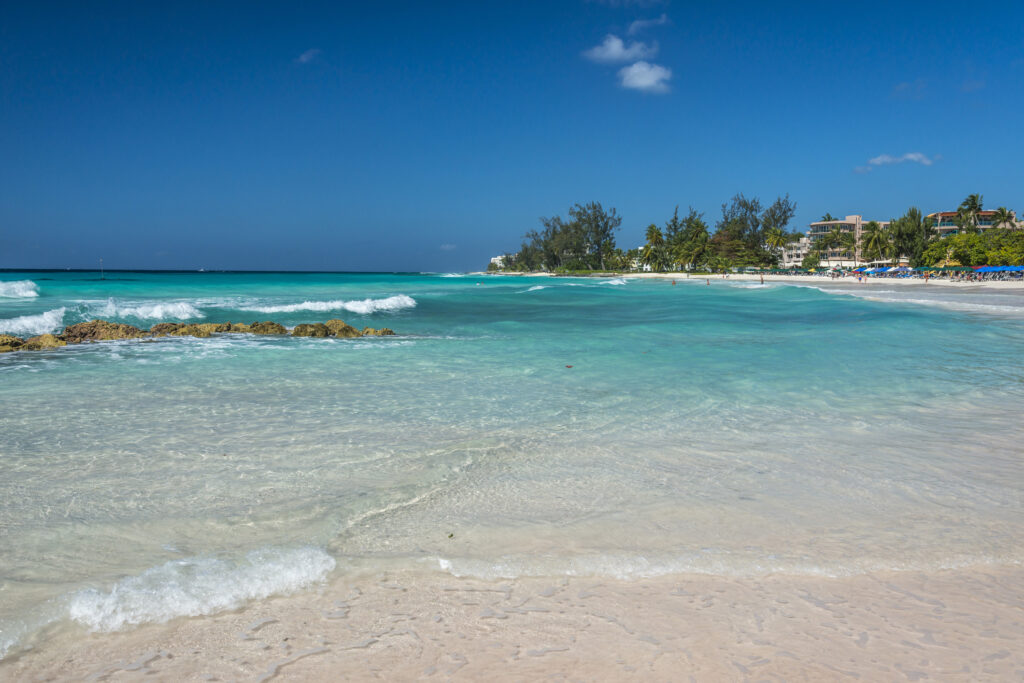 The South coast's liveliest and finest beach! Accra Beach is also known as Rockley Beach as it's located in the Rockley area. This is the ideal beach for a family as there is a lot of space and the water is safe for everyone, it stays shallow for a good distance. At Accra Beach, many water sport activities are available such as windsurfing, kite surfing, banana boat rides, and bodyboarding.
If you plan on visiting Rockley's Beach, rent a sun lounger and grab a drink from one of the many beach bars or explore the beach stalls and the South Coast boardwalk. Everything you need is just a short walking distance away: restaurants, food stalls, bars, shops, etc.
Carlisle Bay
A number of beaches line the bay here, there are miles and miles of white sand stretching from Bridgetown right to The Hilton Hotel. Carlisle Bay Beach is located on the southwest coast of Barbados, close to Bridgetown. It's a popular destination for both locals and tourists, which comes to no surprise as it is considered as one of the best beaches in the Caribbean.
There are no less than 6 shipwrecks in the bay, which attract hundreds of different underwater species making it the perfect location for snorkeling. If you are into water sports, you can rent a kayak, jet ski or enjoy a fun boat ride. There are many good restaurants and bars along the beach for you to try delicious food whilst enjoying Carlisle Bay's amazing landscape. Pirates Cove beach bar is worth a visit for a cooling cocktail or two!
Bottom Bay Beach
A tranquil hideaway, no resorts or beach bars here. Botton Bay Beach stands out from the crowd as it has escaped overdevelopment. Located on the South East Coast, Bottom Bay Beach is surrounded by high coral cliffs, making it an amazing corner of the world. Tall skinny coconut palms line the beach, you might even find a local willing to climb up and get a fresh coconut for you to drink. This truly is a castaway beach!
The waves here can be wild so swimming is not recommended, but it is a great place to prepare a picnic in the sand.. come prepared with drinks and food as there are no services around. Turtles and whales can sometimes be seen from the cliffs above the ocean. Bottom Bay Beach is a great destination for couples or people that are looking for somewhere that is not busy!
Harrismith Beach
Harrismith Beach is located right next to Bottom Bay, on the southeast coast of the island. You can walk from Bottom Bay to Harrismith Beach and it will only take you a couple of minutes. This beautiful beach looks like a postcard with its turquoise waters and soft white sand. It is surrounded by palm trees and rocky cliffs and is similar to Bottom Bay.
One difference between the two is that here, the waves are not as strong and intense as those in Bottom Bay so you can swim if you want. If you're planning on visiting this beach, make sure to bring your snacks and drinks as there are no restaurants or bars nearby.
If you need accommodation for your vacation in Barbados, we have many home rentals available to suit your needs. Feel free to contact us and we will be happy to help you find the perfect vacation rental!